About Barbara Schwaiger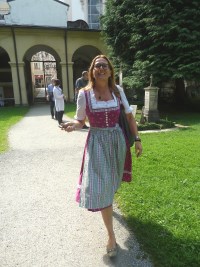 Visitors to Salzburg have admired the city's outline, with its numerous towers and domes, set against the background of Hohensalzburg Fortress for centuries.
As an art historian I have learnt how to interpret architectural hints set in stone, how to read the subtle clues given by the many monuments and to show how they are linked to the history of Austria and of Europe. During a variety of theme tours Salzburg's eventful past and peaceful present can be enjoyed up-close. Fascinating, amusing events and human destinies put fresh impressions in a more lasting perspective.
I have worked in a whole range of occupations in the tourist sector since 1984. I am fascinated by travel and travellers alike. In 2011 I finally achieved my goal of graduating in art history. My 'Austria Guide' qualification provides a perfect opportunity to pass on this knowledge to people visiting Salzburg.
My tours are not limited to trips around my home town. I also show guests around the Salzkammergut region, Innsbruck, Linz and Vienna.
I would be delighted to create a customised tour for guests interested in a special theme.